This table was my college final project, it is a dining table.
Made of solid cherry, legs are inlayed with maple and walnut. It has two drawers at each end and two drop leaves.
I saw the design from a book when I was looking for design ideas of canopy bed. It is a 18 century design with some contemporary modification. I decide to make it by first time I saw it.
In the oranginal design, main material was mahogany, it is too expensive for me and the color is too deep, so I followed my wife's idea, chose cherry.
All table are made of solid wood except drawer bottom, that is baltic birch plywood with cherry veneer.
When the leaves are dropped down, table top is only 25″ by 48″, you can put it in the corner to save spaces.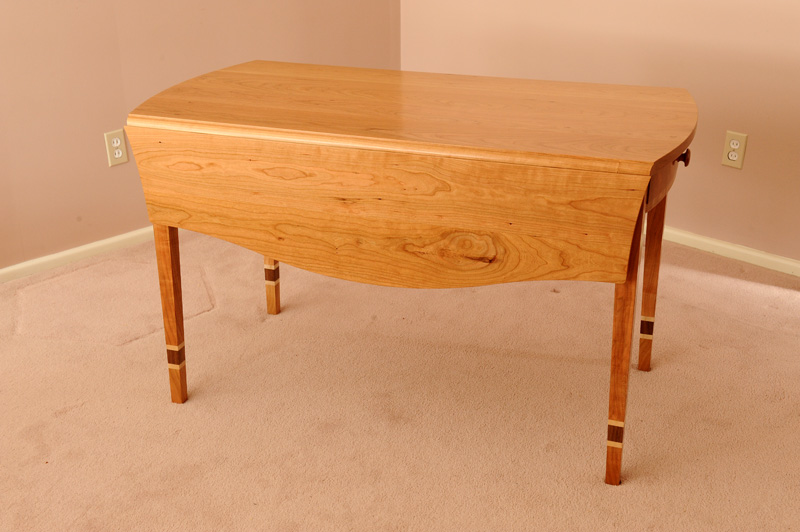 When the leaves are expanded, the table top is 48″ by 48″, a good size for 4~6 people.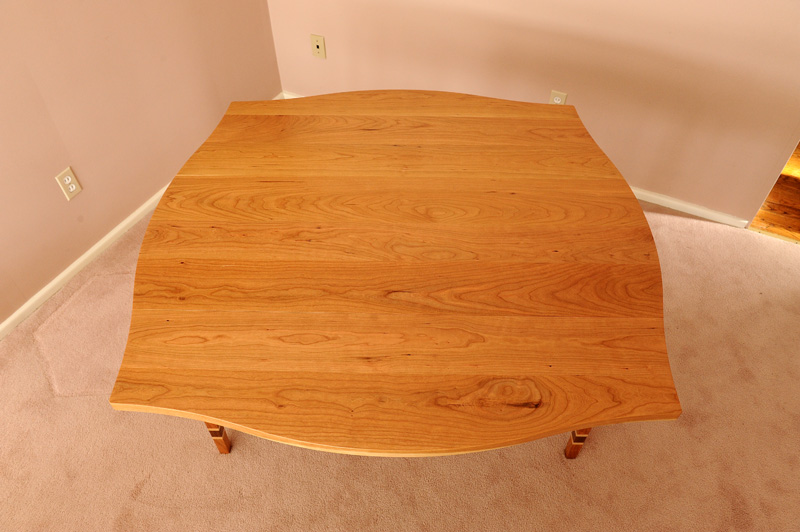 The shape of the top is in between a circle and a square, calculate with AutoCAD. BTW: AutoCAD is perfect to make this kind of inerratic and complex shape.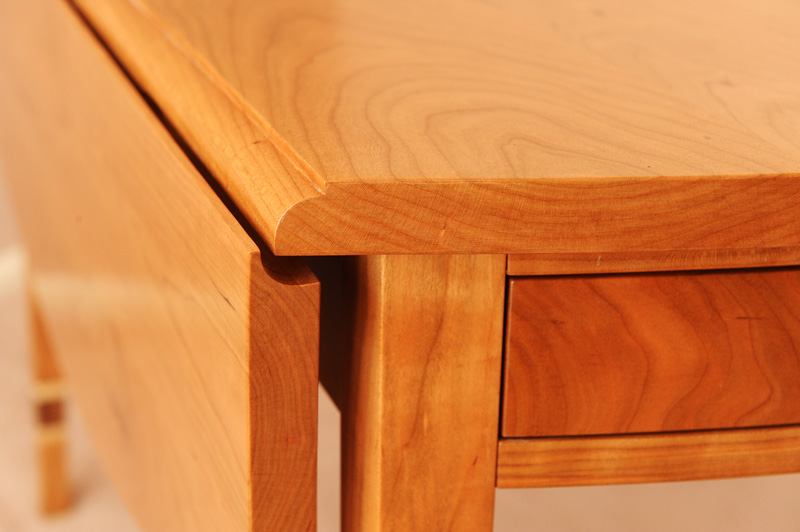 Table leaves are supported by a stick that can be collapsed into the aprons. There is a box behind apron hold and support the stick.
And a stop underneath table leaf provent the support stick from come out of table body.
Hinges are from Lee Vellay,  solid brass finished with high gloss lacquer, for drop leaf special porpose only, around $40 a pair, killed me a lot of $$$$$……. But it looks so sexy~~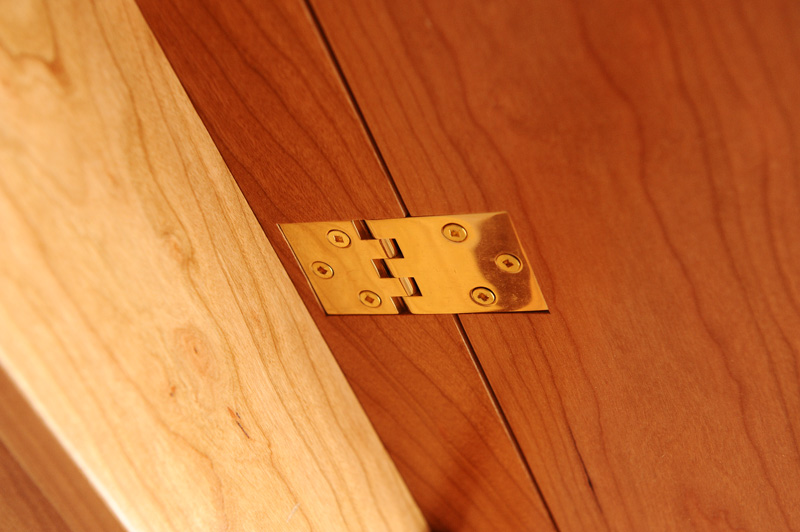 Joint of table leaf and main table top. I cauculate and simulate the shape with AutoCAD for a long time, just make sure that it can open easly without scratching each other and leave no gap when closed.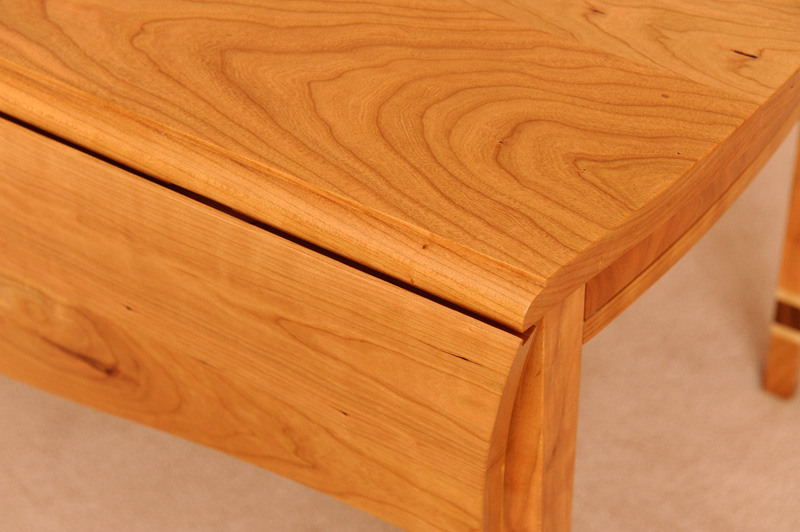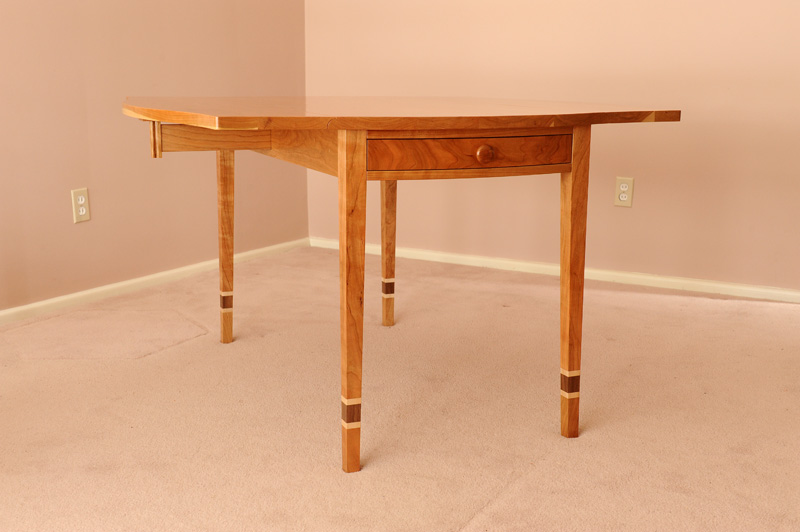 The rings on legs are not inlay, they are maple and walnut parts laminated together, end grain to end grain, with a 3/4″ diamiter, 7″ long Oak dowel join all the parts. Glued with epoxy, make it strong enough to hold the weight of payload and abusement. Legs are laminated first, and then tappered, so it is very flush and no gap between different spices.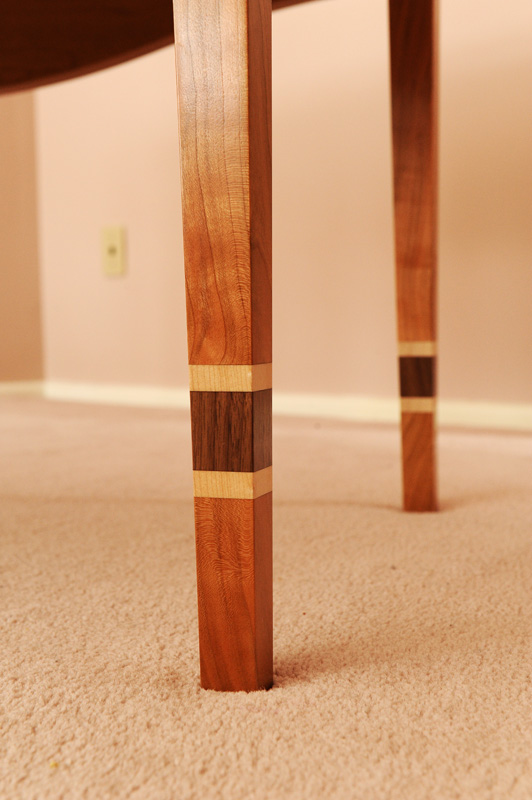 Drawer opened. The drawers are my favorate part. Solid sides and front, jointed with half blind dovetail.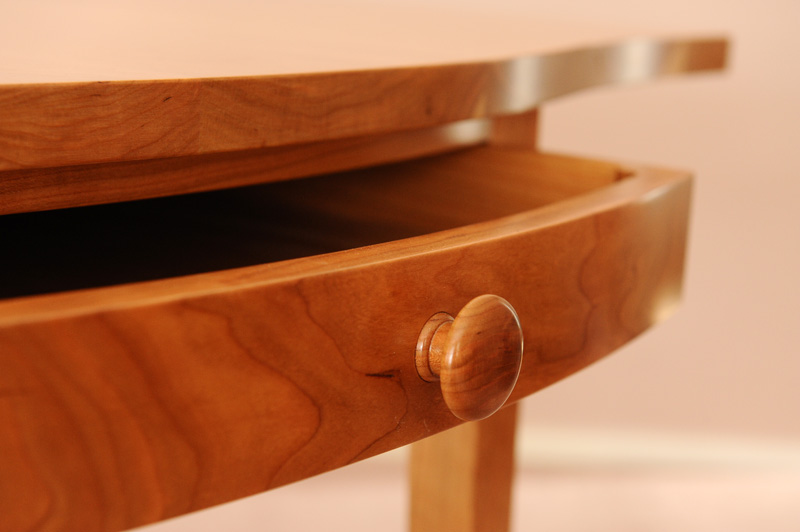 Drawer front is curved, it is formed with two pieces. one 1/2″ thin piece and a 1-1/2″ thick piece. Tails was cut one the thin piece first, then glue two pieces together, one put glue on 2″ from each end. When glue get dried, cut the curved shape on bandsaw and then sand the surface smooth.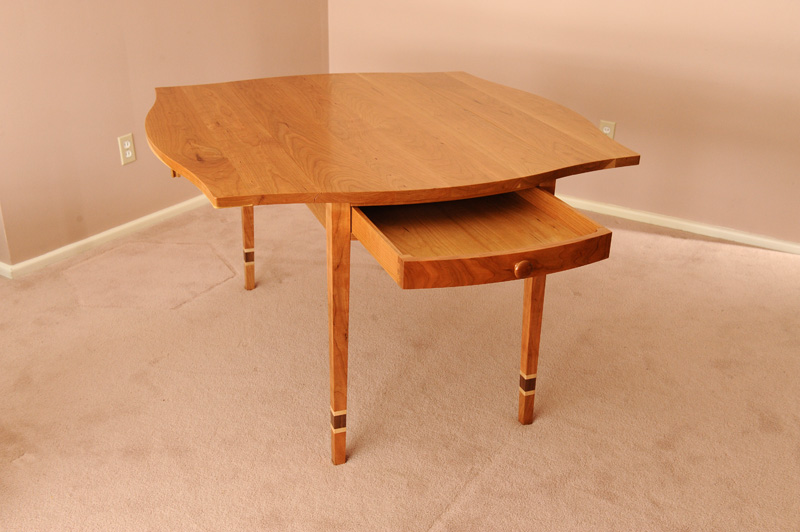 I don't like the cut off at drawer back, and I don't believe that screws can hold bottom for long time. So I cut grove on drawer box and insert the bottom in. For the front is curve and irragular shape, it can not be cut on table saw, I clamp the dry assembled drawer box with band clamp and cut the grove on router table.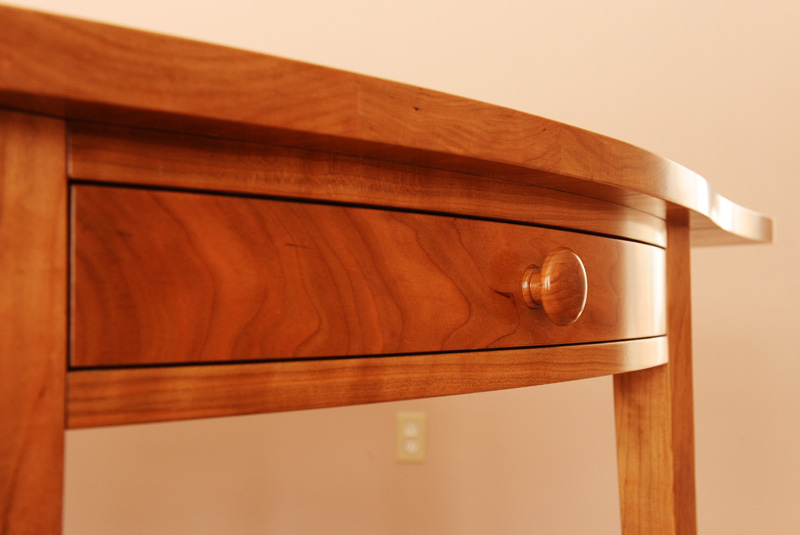 Drawer knobs are turned with offcuts from legs. I found that if I turn two knobs from one blank, back to back, it is much more easy to make the knobs exactly the same.
to avoid gap between knob and drawer front(because the drawer front is curved), I predrilled a cup hole for the knob, so the knob is sit in the cup hole.
When drawer closed, the front is flush with stretchers, parallel with edge of  table top. This is why it can be called as fine furniture!
Whole piece is finished with gloss clear lacquer, 4 coats for the body and 5 coats on the table top. But the total thickness is not that much, because I sanded off almost all of the first two coats, just to create a even smoother surface.